Introduction
In the year 2008, Microsoft started working on a project codenamed "Project Red Dog". This was an operating system for the Cloud. This was to compete with Amazon WebServices (AWS) which was launched in 2006 and quickly got so popular that everyone wanted to say that we use AWS.
Microsoft later renamed this OS to Windows Azure and announced it in PDC 2008. After years of development, it finally was launched under Public Preview and then General Availability in the year 2009.
It became commercially available on 1st Feb 2010. Today is the 10th anniversary. I want to share some of my journey with Azure.
Beginning
Azure was popping up in the news around 2008 and most of the people thought that it was the successor of Windows Server OS. The term Cloud Computing was synonymous with AWS then. In 2009, Microsoft slowly increased covering more details on Azure in the news. It was called Windows Azure those days as it supported only Windows Operating Systems. It was launched on https://windowsazure.com and portal was at https://manage.windowsazure.com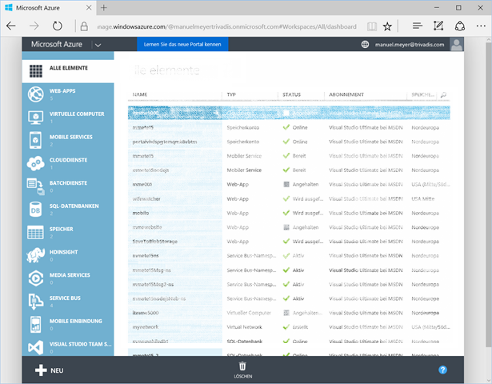 In one of the free Workshops organized by Microsoft in December 2009, I got access to the Azure portal for the first time. The list of services available was very limited then.
Microsoft launched Windows Azure commercially on 1st Feb 2010 and started billing.
Apart from the IaaS services provided by Microsoft, the PaaS had an offering of Cloud Services for hosting the entire application on Cloud. The cloud services were WebRoles and WorkerRoles built using Windows Server images supported by basic platform services likes Queueing etc.
BizSpark member credits
During my Entrepreneurship, I got my BizSpark membership (Oct 2012 to Oct 2015), With that, I got access to VisualStudio MSDN subscription. This provided free credits of $150 per month of Azure usage. I had utilized the opportunity to explore all of the services provided by Azure.
Turning Point
Satya Nadella took hold of Microsoft as CEO on 4th Feb 2014. This turned around the strategy of Microsoft. Rather than relying solely on the Windows Operating System, Microsoft started adopting competing Operating Systems into Azure.
On 3rd April 2014, Microsoft decided to rename its cloud platform from Windows Azure to Microsoft Azure in alignment with its direction of provided non-Windows workloads inside its platform.
Microsoft loves Linux, Nadella announced in a Microsoft event paving the way for new Azure.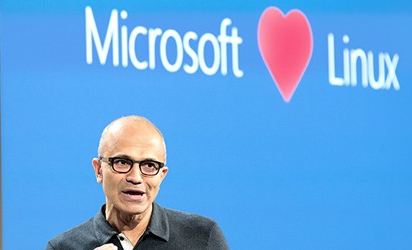 Microsoft Azure started adding new services every week. Also, discontinuing services that did not get acceptance from users.
Global Azure Bootcamp
Every year User groups all across the world organize Global Azure Bootcamp. This is a whole day event where people interact and learn about various services hosted on Azure. I had attended for a couple of years and then got the opportunity to present.
In the year 2018, I presented on how to train and deploy a Deep Learning model for Handwriting recognition using the Azure Deep Learning Virtual Machine.
In the year 2019, I presented on how to deploy, scale and update Docker containers on Azure using Azure Kubernetes Service (AKS).
Certifications
With changing business requirements, Microsoft has kept updating its Certifications related to Azure as well. The current list of Azure certifications can be found here https://www.microsoft.com/en-us/learning/azure-exams.aspx
I got certified as a Microsoft Certified: Azure Administrator Associate in 2018. This is the link to view my credentials https://www.youracclaim.com/badges/9779d23f-2f6a-47bf-9d80-a0f17ae2afb0/public_url
Growth in Iaas
Microsoft Azure has grown in popularity as an IaaS provider. The following are Gartner's reports images showing its growth.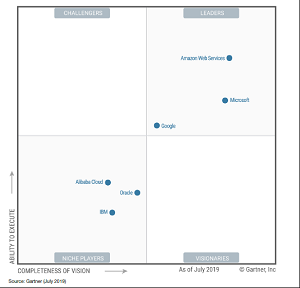 Current Situation
Microsoft has partnered with most of its competitors of the olden age. They now support IBM OpenShift, Redhat Linux and others on Azure. With the Docker revolution in 2015, Microsoft partnered with Docker and formed the Open Container Initiative. Windows Server 2016 was released with an enhanced NT Kernel that supported primitives required to run Containers compatible with Docker on Windows Servers. Also, Azure started support for Containers through Azure Container Instances and now supports Kubernetes with Azure Kubernetes Service.
Conclusion
Azure is the preferred Cloud Service provider for those running Windows workloads and in the Hybrid Cloud environment. Azure is now the second most popular Cloud computing platform second only to AWS. Google Cloud is still trying to catch up.